We're really excited to announce the official launch of the 350 Challenge, done in association with our friends at 350.org. The idea is simple: for every blog that posts the 350 Challenge badge, we'll offset 350 pounds of carbon in their honor. Yep, that's it!
Our goal is to reach 350 bloggers, which will offset 122,500 pounds of carbon. That's like turning off the power in Washington, DC for five minutes!
Just click on the badge to get your own. And if you've already done it? Thank you.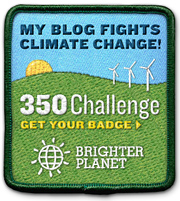 What blog is this?
Safety in Numbers is Brighter Planet's blog about climate science, Ruby, Rails, data, transparency, and, well, us.
Who's behind this?
We're Brighter Planet, the world's leading computational sustainability platform.
Who's blogging here?
Patti Prairie CEO