Well, we did it! After just three and a half weeks, we got over 350 bloggers to participate in the 350 Challenge. We're so impressed by the way the badge spread from blog to blog, from California to Canada to Turkey … now thousands of readers from all over the world are united through this campaign!
I'd like to share for a minute what 122,500 pounds offset means to us, and our vision of building renewable energy in communities across the United States. While a number can sometimes just seem like a number, 122,500 pounds becomes very real when we help families and communities to build renewable energy - to help sustain their livelihood so that they may do their part to stop the country's addiction to coal and oil.
To understand the real impact of 122,500 pounds offset, we've done some math for everyone. 122,500 pounds offset is like turning off all the power in DC for five minutes, it's also like making your house off the grid for more than five years!
Due to the success of this campaign, and our commitment to helping spread the word about 350.org we're going to keep the 350 Challenge going for the time being for any new people that want to post our badge. And we'll still be donating 350 pounds in their name to our renewable energy projects.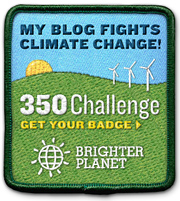 Many, many thanks to everyone who participated!
What blog is this?
Safety in Numbers is Brighter Planet's blog about climate science, Ruby, Rails, data, transparency, and, well, us.
Who's behind this?
We're Brighter Planet, the world's leading computational sustainability platform.
Who's blogging here?
Patti Prairie CEO